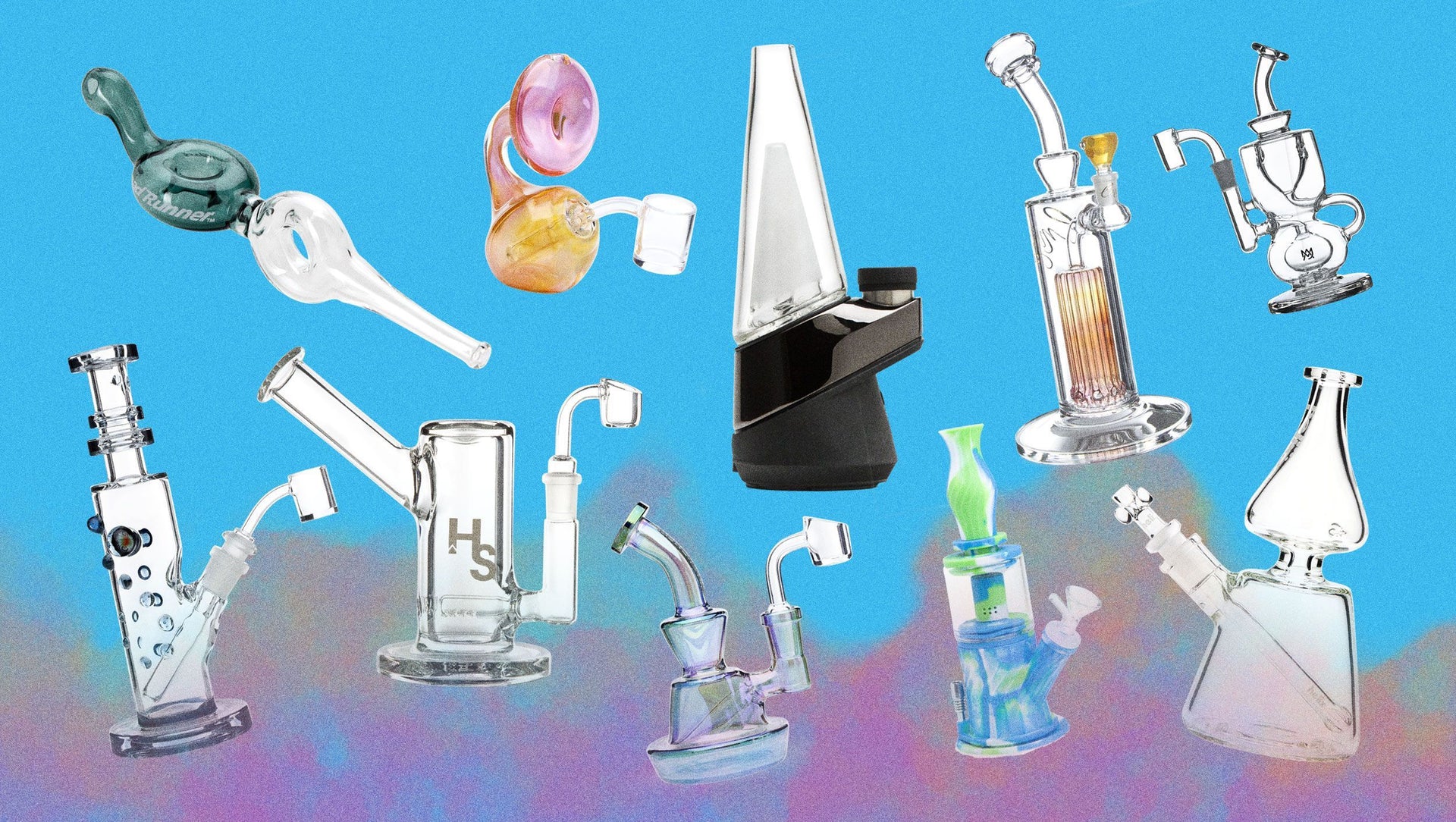 The Best Dab Rigs of 2022
Smoking weed has come a long way from passing around a joint with your friends, although that's still cool. Now, cannabis users can choose from vapes, bongs, bubblers, and much more. In this article we are focusing on another way to enjoy cannabis you may or may not be familiar with: the dab rig.
What is a dab rig?
Dab rigs are water pipes designed to be used with concentrates, or "dabs". Dab rigs are great because smoking a small dosage of concentrate from a dab rig or concentrate pipe can get you way more high than smoking flower out of a bong. Even better? Smoking from a dab rig tastes and smells great.
How does a dab rig work?
The key to why dabs are so flavorful is no secret. Dabs are concentrated cannabis terpenes and cannabinoids. When you use a dab rig the concentrate is vaporized instead of combusted. This vaporization at a controlled temperature creates a potent and extremely flavorful vapor.
Whether you're a daily dabber or only indulge occasionally, there's an oil rig in our online headshop for everyone. Check out our top ten favorite dab rigs for 2021.
Mini rigs are small and cute, but they pack a helluva punch. A mini rig is a great choice if you want maximum flavor and potency, with a low water line that lets you completely taste your dab right when you hit it. The MJ Arsenal mini rigs boast unrivaled percolation and are great for smokers who want to really savor their concentrates with long, tasty hits.
The Puffco Peak is a smart, sleek dab rig that works as great as it looks. All you have to do is load your concentrates and push a button — the dab rig will heat them to the perfect temperature over and over again. It's the perfect tool for getting the most flavor and potency out of your concentrate while using as little as possible, making it ideal whether you're taking a quick hit or enjoying a marathon smoke session.
If you're a collector, chances are you'll want the GRAV Helix Beaker in your collection. It's a beautiful water pipe that uses air injection to help you enjoy a smooth, great-tasting hit that doesn't feel harsh. The clean, impressive design of this dab rig help it look just as good on the shelf as it does being passed around to deliver super-smooth hits. Just don't forget to keep it clean!
This affordable dab rig is actually a four-in-one bong that can turn into a bubbler, bong, or rig, or dab straw (nectar collector). Customize your smoke experience exactly how you want it and enjoy the durability you can only get with a silicone bong. If you're new to dab rigs or trying to start a collection, this multi-colored (and glow in the dark) piece is a great first buy.
Higher Standards is the go-to choice for scientific glass pipes that are high-quality, affordable, and American-made. This rig is designed to provide the right amount of percolation and flavor as well as a perfectly designed mouthpiece that is designed for smooth, easy inhalation with no drag. In addition to the rig itself, the kit comes with two dab tools and a quartz banger packaged in a sleek carrying case. It's a heavy-duty dab rig kit that will look great in your collection and provide you with years of consistently smooth hits.
In all honesty, we don't know if we've ever seen a cooler dab rig than this. It's a banger hanger dab rig with a short build and a direct-inject downstem, which means that it'll make your dab hits hit hard and fast. If you value dab rigs that pack a big punch — and have a cool, retro-80's vibe that'll make you feel like you're about to run into RoboCop — this Red Eye Tek pipe is guaranteed to help you get the most out of your favorite concentrates.
Who says a dab rig can't be a work of art? We'd like to see anyone call this dab rig anything other than museum-worthy after seeing its Scallop perc, which is expertly fumed and lined with holes at the bottom to help evenly percolate stacked hits throughout the piece. That means that you're going to end up with a smooth, powerful hit from a dab rig that's ready to stand out as the crown jewel of your collection.
If you value convenience in a dab rig, you'll be running faster than the Road Runner to get to this one. Designed for taking a quick taste of your favorite concentrate, the rig features a Double-Donut cooling design to cool your hit down before it reaches you, leaving you with a super-smooth, tasty hit that packs just as much of a punch as a water pipe. And, at just six inches long, it's way easier to use and transport than a bigger bong or dab rig.
Because the mouthpiece of this rig fills with vapor that is then stored, it's perfect for big, long dabs and powerful hits. But the main draw of this rig is probably its show-stopping look, which features expertly fumed glass and pink and orange gradations that make it look like someone captured the magic of a sunset in a small yet powerful dab rig. With its stunning colors and carefully crafted shape, this rig will make a great addition to anyone's collection.
Have you ever seen a dab rig so beautiful that you had to take a step back and just admire it? That's how we feel whenever we see one of Chris Hubbard's dab rigs, which are bursting with crystals, color, wigwags, and more. With a wigwag planet perc and high-quality glass, this dab rig can provide you with hit after smooth, tasty hit — while also acting as the out-of-this-world centerpiece of even the most impressive collection.
Find Your New Favorite Dab Rig Today
Settling on a new dab rig can be overwhelming, but it doesn't have to be. Smoking should be relaxing and fun. Whether you're drawn to a handcrafted art piece or a low-budget utilitarian rig, go with what looks fun and will make you feel good. After all, life is too short to get stressed about picking the wrong dab rig!
Want to learn more about what we do at 420 Science? Check out our selection of handpicked dab rigs, and then browse our Learning Center to educate yourself on everything from dabbing etiquette to how to store your dabs. If you have any questions, feel free to contact us.