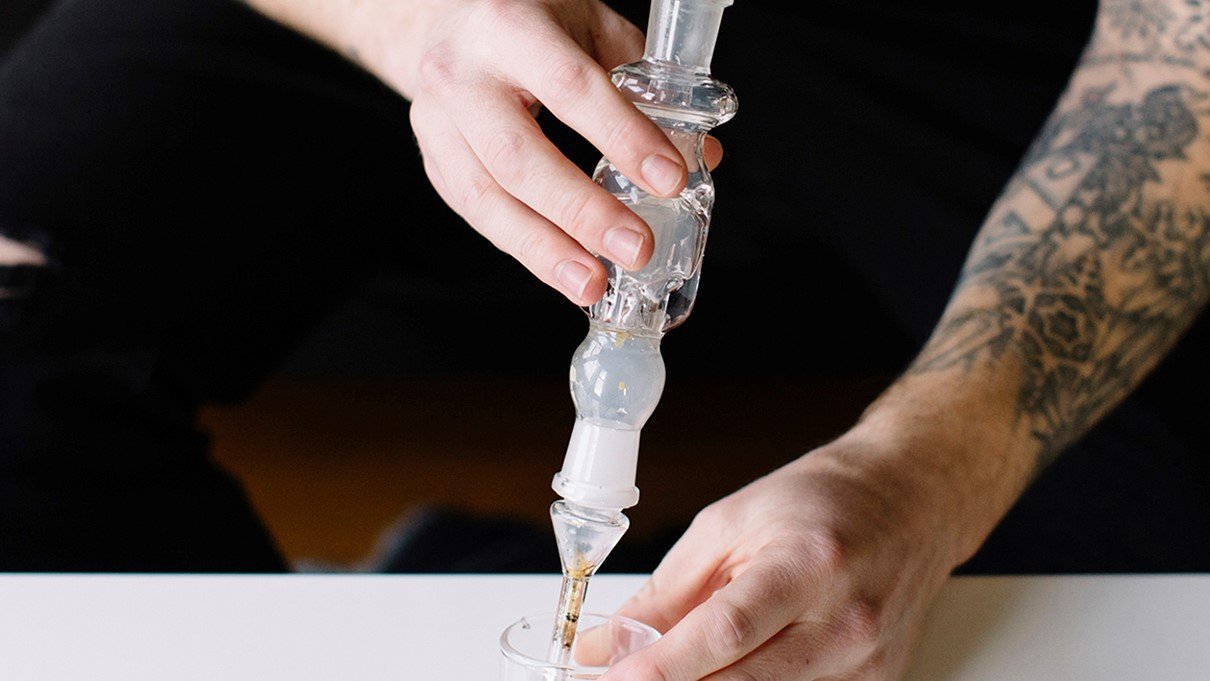 The Best Nectar Collectors of 2022
Looking for a new way to dab your extracts and concentrates during your next smoke session? Look no further! You need a nectar collector. These innovative dab rigs are affordable, easy to use for beginners, and ultra-portable. We only sell the best nectar collectors on the market here at 420 Science, and these are eight of our tried and true favorites.
What is a Nectar Collector?
Nectar collectors are portable dab rigs you can use to vaporize and smoke shatter, wax, oil, and a variety of other weed concentrates. Some of them have filtration systems, while others don't. You may also hear nectar collectors referred to as dab straws, honey straws, or dry rigs.
They're effortless to use, even for beginners. All you have to do is place concentrates in a glass or quartz dish and fill the nectar collector with water. Then, heat the nectar collector's tip with a blow torch and let it cool for a few seconds. Place your mouth around the straw, stick the tip in your concentrates, and slowly inhale the produced vapor. It's as simple as that!
Why Smoke with Nectar Collectors?
Nectar collectors make great additions to any smoker's collection of dab rigs. They're small, portable, and easy to use, which makes them a favorite for many.
Reasons smokers like nectar collectors include:
Beginner Friendly: Nectar collectors are easy to use, even for beginners. You need to follow only a few simple steps to have a quality smoke session using a nectar collector. It's almost impossible to mess up the process.
Durable: Most nectar collectors are glass, quartz, or silicone. These materials are highly durable and will last for years as long as the pieces are used and taken care of properly.
Easy Cleaning: Cleaning nectar collectors is extremely easy, making them an excellent option for anyone who wants to have a hassle-free smoking experience. All you need to do for cleaning is soak each piece of the nectar collector with isopropyl alcohol, salt, and warm water before wiping the parts off and using them again.
Portable: One of the most significant benefits of nectar collectors is that they're super portable and discreet. Most nectar collectors are relatively small, and you can disassemble them easily for even more portability.
Self-Contained: There's no need to carry around a bulky collection of dab accessories when you're using a nectar collector. Most nectar collectors are wholly self-contained and include all the pieces you need to use them, including filtration systems on some. They're effortless to travel with.
The Best Nectar Collectors of 2021: Tested and Reviewed
There's truly a different piece out there for every type of smoker, and nectar collectors are no exception. Here are our top recommendations for nectar collectors that suit almost any budget or preference. These nectar collectors are the best of the best, and there's something special about all of them. You're sure to find the perfect nectar collector for your smoke accessory collection here at 420 Science.
1. Home Blown Glass Road Runner Air-Cooled Dry Rig
Price: $59.99
Brand: Home Blown Glass
We learned about this piece in Las Vegas and were impressed with the simple design that offers a nice, clean draw with fully-intact flavor. This nectar collector-style dry rig is made with durable borosilicate glass, meaning you can use it without worrying about breaking it easily. The dab straw features a Double-Donut cooling chamber with a large air space for your hit to travel through, so it effectively cools down without affecting flavor. The Road Runner comes in various colors and is unparalleled in functionality and uniqueness. This dry rig is our favorite on-the-go taster for any buffet or sample line and is currently a 420 Science exclusive.
2. Home Blown Glass Road Straw Air-Cooled Dry Rig
Price: $24.99
Brand: Home Blown Glass
The Road Straw is another great Home Blown Glass pick, the Road Straw is a straight pipe with a narrow tip made for quick sips. Also made of borosilicate, this is a solid backup for leftover dabs when you have no other way to get to them. The simple, 6-inch piece requires no extra setup and is easy to clean. This design is for low temp use only, so it's great for those who want to embrace the cannabinoid concentrates and maintain flavor.
3. GRAV Chiller One-Hitter/Bubble/Vapor Straw Multi Kit
Price: $99.99
Brand: GRAV
The Chiller Multi Kit from GRAV is perfect for smokers who like variety in their toking experience. It's a simple toolkit that includes a dry hit nozzle, bubbler, one-hitter bowl, and joint clamp that you can assemble into many combinations according to your specific smoking preferences. The parts break down for easy cleaning after your smoke session. The mouthpiece contains an opal to act as a plug and roll-stop. The portable glycerine chiller pipe comes in three colors and provides a cool draw for any assembly. Pop it in the freezer and pull slowly for extra cooling.
4. Home Blown Glass 'The Bird' Air-Cooled Dry Rig
Price: $49.99
Brand: Home Blown Glass
Have you heard? "The Bird" is an all-borosilicate glass rig that allows for long, delicious rips. With a bird-shaped body that sits upright, it's great for someone who likes more personality in their collection. The donut loop chamber ensures cool hit delivery, and the large chamber allows the air to expand a bit before you hit it for additional cooling. The design of this hummingbird functions just as well as the Road Runner. Some users suggest adding both to your collection if glass dry rigs are your choice for on-the-go sips of honey.
5. Dip Devices EVRI Three-In-One Vaporizer
Price: $69.99
Brand: Dip Devices
If you're looking for variety without the torch experience, the EVRI Three-In-One Vaporizer is the Swiss army knife of dab pens. The ceramic dab straw tip has a nichrome coil center that allows for instant heat. Three different heat settings allow you to curate the experience based on your concentrate of choice. The USB rechargeable battery magnetically connects to each separate attachment. The vaporizer includes a vapor tip attachment for dabbing solid wax and a two-sided 510/pod attachment that allows you to connect 510 cartridges or refillable e-juice pods all in one device. The EVRI is compact and continues to release new parts for a versatile experience.
6. GRAV Helix Bubbler/Spoon/Vapor Straw Multi Kit
Price: $119.99
Brand: GRAV
The GRAV Helix Multi Kit is another excellent choose-your-own-adventure option. The Helix mouthpiece injects air, and when combined with water filtration, this piece might provide the smoothest hits you've ever tasted. This kit includes a bubbler, spoon, vapor nozzle, and K-clips for a setup with all the functions of the best pieces that GRAV has to offer. It's a sturdy piece that's stellar for versatility in daily use. Connect the bubbler to enlarge the smoke chamber for high volume hits. The K clip included keeps everything in place exactly like you like it. The hits are smooth with this kit, no matter your setup.
7. Waxmaid Silicone Nectar Collector
Price: $59.99
Brand: Waxmaid
The silicone body of this nectar collector makes this the most durable product on our list. The Waxmaid Silicone Nectar Collector has a large expansion chamber for flavorful hits delivered through a titanium nail. If you're looking for easy transportation and fragile pieces are not your friend, this might be the right move for you. It's easy to hold, and the piece never gets too hot. The titanium piece also stays hot longer than our glass options. It comes in six brightly colored designs, so you're sure to find the right style for you.
8. Grav Concentrate Taster
Price: $11.99
Brand: GRAV
This three-inch nectar vape pen is probably our most portable option and is great for any budget. For discreet dabbing anywhere, this is one you'll want to add to your collection. Both the body and dish are borosilicate glass available in various colors. We recommend loading concentrates onto the dish and touching the heated dabber to it to prolong the life of the glass and lower the risk of burning yourself. You can still heat the dish, but remember, this thing can get scalding hot. If you want the portability of a nectar collector but are looking for the most affordable option, this teeny taster is for you.
Looking for Nectar Collectors and Dabbing Accessories? We Have You Covered!
Nectar Collectors are the best piece for on-the-go or single-serving dabs, whether they have filtration systems or not. They are durable, easy to clean, and easy to use for smokers of any experience level looking to get powerful, tasty hits out of their concentrate. Check out the rest of 420 Science's collection of dab tools for the best of the best available in dab gear.