Customer Reviews
Write a Review
Ask a Question
03/25/2020
Jonathan P.
United States
Dab Noob prospective
Absolutely game changing for me(a dabbing noob). The whole dabbing process was very intimidating for me, needing a rig and blowtorch. First time I tried dabbing I threw up. The Puffco Peak makes the whole process painless. From loading the Peak to cleaning the glass, I can go from 0 to ripped in about 10 minutes now. It provides extremely clean and potent hits. I strongly recommend using the manual the first few times you use it. Very expensive purchase but you can purchase here with confidence as they are an authorized retailer in the event you have issues. I recommend using live resin for the best effect, looks like yellow crumbles.
10/31/2019
Tea L.
United States
Wow!
I had to give it some time to test this, to see If the hype was real. The Peak is an absolute lifesaver. First of all it's only 6 inches tall (and it comes with a dense foam case) so it's extremely portable. Second, The heat settings blew my mind. I was so used to dry dabbing that I couldn't feel the flavor, I couldn't control the consistency and sometimes it just wouldn't work. With this, I can taste the flavor and each hit is smooth and consistent. It's very nice to pass around with a group of friends, because of its little to no learning curve. I'm simply amazed by how well this performs without the need of a torch or nail. This company truly cares cares about its customers without a doubt as well. The box was packed nice and neat, a much more professional invoice than I've ever had with any other company, and and there were very nice freebies I wasn't even expecting which made me pretty happy when I opened it. I really do appreciate the payment plan option, it gave me the freedom of being able to purchase this item while keeping up on my bills. Overall, my experience has been 10/10 and I will definitely purchase from this company again.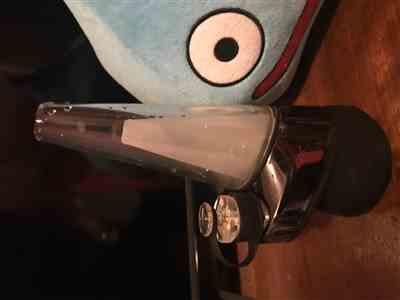 07/19/2019
Jay F.
United States
07/08/2019
Paul S.
United States
Does The Job
Bit of a learning curve, even after watching many youtube tutorials. Scorched the bottom of the ceramic bucket in two ways. first, put a bigger dab in there than I could finish, didn't wipe it clean quick enough, scorched. Second, put a small dab on middle heat setting, waited too long to draw on it, scorched. Both my fault. Works good except power/settings button acts a little weird. When I press twice to turn on after choosing a heat setting, sometimes it just changes to a different heat setting. That button is a little unresponsive. Difficult to drop a dab right on the bottom of the bucket, wish I could just scrape it off the tool into the bucket. Otherwise, it's working out.