Customer Reviews
Write a Review
Ask a Question
01/11/2021
Alexander J.

United States
The dabitron..wooo
Man let me tell you ok so imma gravity person and the gravity downstem is a game changer....but the dabitron...it's not for the light weights ****....it's a great piece hits like mike tyson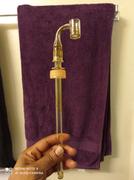 01/06/2020
Kristin M.

United States
Packs a SERIOUS punch!
Love the idea and the look of this attachment. It definitely does work exactly as expected - be ready to cough like you've never coughed before - though I'm not a huge fan of the nail that comes with it. Easily rectified though as this takes 14mm female nails. Also, you should *definitely* use this with a carb cap. Overall, this thing is freakin' awesome and the price was just right.
Works like a dream
Gravity dabs are amazing, just lift slowly before applying your goods to the nail so you don't lose any vapor (I learned that the hard way) 10/10 would buy again