GRAV Gravitron V1 Dab Conversion Kit
• In stock / ships Monday / Shipping Map
• Spend $100+ for Free Shipping
• $6.99 Flat Rate Shipping
• Easy Returns
You might also need:



See more products from GRAV
Dab with a Gravity Bong
You know those days when you are looking at your Gravitron and thinking, you know, it just doesn't blow my mind as hard as it used to. Well, those days are over now that you have a Dabitron Conversion. Throw this on top and drop in a nail and you can ride the lighting of a beefy oil hit whenever you like. Use responsibly, whatever that means.
SPECS:
Length:10in
14mm Male Joint
Quartz Domeless Nail Included
ONLY WORKS WITH V1 GRAVITRON
Customer Reviews
Write a Review
Ask a Question
01/11/2021
Alexander J.

United States
The dabitron..wooo
Man let me tell you ok so imma gravity person and the gravity downstem is a game changer....but the dabitron...it's not for the light weights ****....it's a great piece hits like mike tyson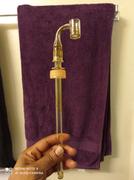 01/06/2020
Kristin M.

United States
Packs a SERIOUS punch!
Love the idea and the look of this attachment. It definitely does work exactly as expected - be ready to cough like you've never coughed before - though I'm not a huge fan of the nail that comes with it. Easily rectified though as this takes 14mm female nails. Also, you should *definitely* use this with a carb cap. Overall, this thing is freakin' awesome and the price was just right.
Works like a dream
Gravity dabs are amazing, just lift slowly before applying your goods to the nail so you don't lose any vapor (I learned that the hard way) 10/10 would buy again