GRAV 7in Upright Bubbler - Black
• In stock / ships Monday / Shipping Map
• Spend $75+ for Free Shipping
• $4.99 Flat Rate Shipping
• Easy Returns
You might also need:
See more products from GRAV
Bubbles Like a Champ

This Bubbler is built to be the economy class go-to table top piece from GRAV. Following the same form as the two smaller bubbler designs, this pipe has a fixed downstem that has a showerhead downstem. The angle of the mouthpiece is a sharp 45 degree that rests well against your lips when in use. The extra thick base ensures years of use with proper care. The best feature is the 14mm female receiver that allows you to add different bowl styles, adapters, and accessories.
SPECS:
Height: 7in
Base Width: 3.5in
Includes 14mm male Funnel bowl
5mm borosilicate glass
Full waterpipe functionality
Clear and black glass with Etch decal
Customer Reviews
Write a Review
Ask a Question
the best hit
looks cool I like it a lot recommend for any one
05/21/2020
Alphakilo

United States
Fav. Bubbler...!
I've owned lots of bubblers over the years, hammer, Sherlock, double chambers. Even had a few Snodgrass bubblers back in the day, yeah I'm old enough for that... This bubbler would be my favorite as a social piece, but thats not when I love the bubbler. I think it shines at home at night chilling. Easy to change water, clean, and stays upright with no issues. Can tilt a whole lot before spilling... pic posted is bubbler on a bed with a person cat and dog, try leaving your hammer style bubbler like that. If you can find this I'd highly recommended! I love 420 Science but had to find this elsewhere, there's a reason they are hard to find...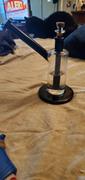 Phenomenal
Can't say enough about this company. Very satisfied customer here...highly recommend.