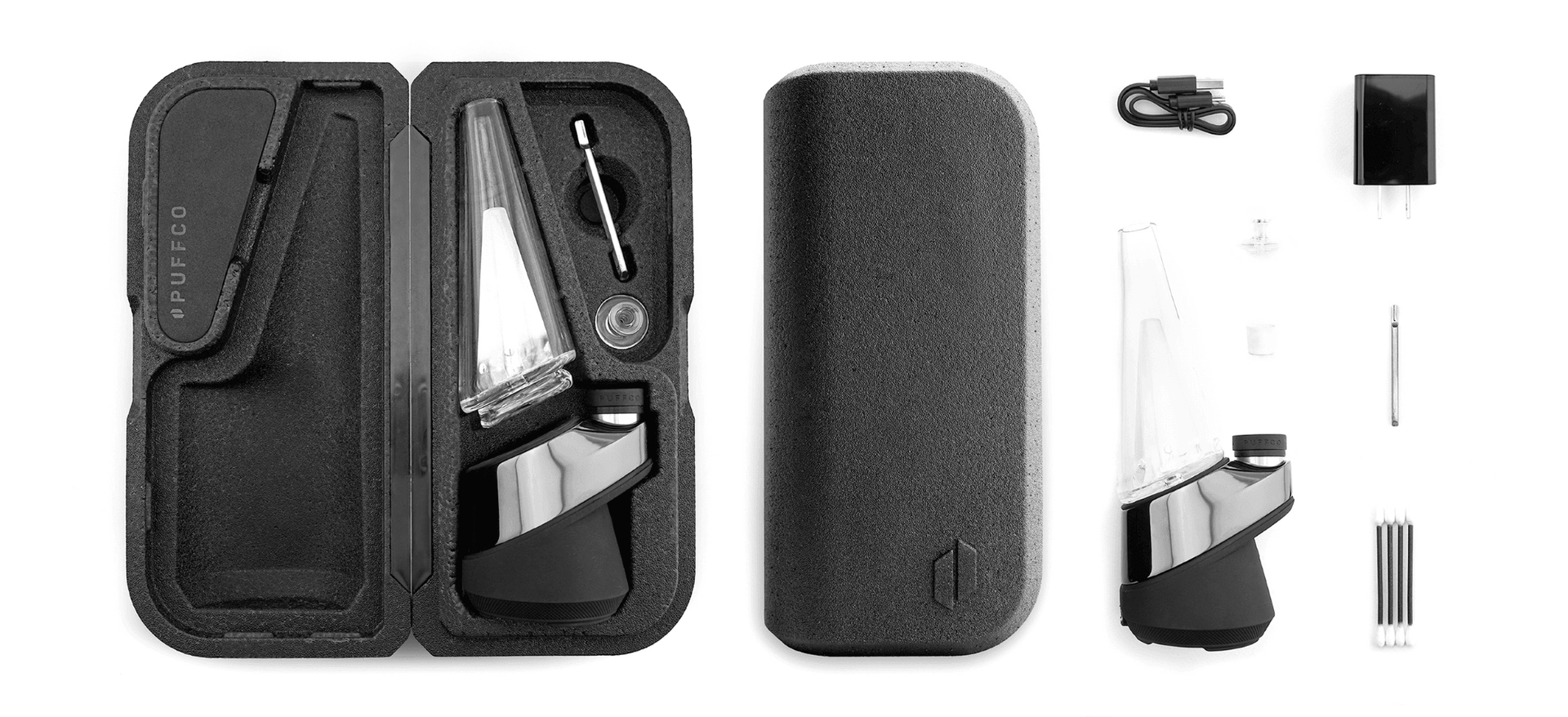 The Best Travel Bags for Your Puffco Peak or Dab Rig
Choosing the Right Storage is Key
Part of the fun of owning a portable electronic dab rig is bringing it wherever you want. The Peak already does an excellent job of storing itself by coming with a high-density styrofoam carrying case. As helpful as that case is, it does not come with extra Puffco Peak storage, a locking feature, and it doesn't help that it looks like a hunk of foam either. If you want to travel with your peak or rig in style, here are several great dab rig bag options.
There are a few options when going with the Peak. You can look for a storage case that holds the molded styrofoam container it comes with, you can search for a carrying solution that allows you to break down your Peak into several parts, or you can store it assembled.
The Vatra 12in Zip & Draw Padded Pouch can fit the Puffco Peak while it is assembled and provide cushioned protection from drops and impact. This bag has an interior pocket to keep extra accessories. This is probably the most bare-bones way you could carry your dab rig. This bag may not be big enough to fit e-nail parts. If you have a mini nail and a small rig, then it would probably work.
If you have a bunch of gear or want to be able to arrange the storage bag in different ways to fit different dab setups the Cali Crusher locking soft cases are a great option. You can move the padded Velcro walls around where you want them and a massive bonus to this bag is that it combination locks and is smell proof. It's a soft bag, so we don't recommend it for long hikes through the mountains, but it will protect your collection on a car ride or a long walk for sure.
If you want to throw the molded case into a bag and go then, there are a few minimal options that will do a great job and even give you extra storage for dabs and other accessories. The RYOT Axe-Pack has an open interior chamber without a ton of padding, so the Puffco Peak molded case slides right in. If you have a dab rig setup, you'll want to use the straps to secure your rig in place. This pack has thick walls that protect from impact and has a double zipper that can be locked together.
On the more versatile side of ways to store dab rigs, the Decker hard case will entirely replace the dimensions of the original Puffco Peak foam case. If you are carrying around a dab rig and torch, then this case has pullout foam inserts to help you customize the interior space. Depending on how much room you need for your gear you can take out the second foam insert or remove the top foam as well to free up a lot of space. The interior is cushioned, and the outside is dense reinforced plastic so it can take some damage and still protect your valuables.
Of course, if you want to guarantee the safety of your rig, whether it's a Peak or a badass dab rig setup, a heavy duty hard case is the best thing out there. A dab rig case like the STR8 case 10-inch lockable carrying case has all the protection you'll need even for the most delicate of pieces. It has two layers of pick and pull foam to make customizing space for your gear easy, and an additional layer of cushioning foam on the inside of the lid. This case has a lot of depth so pieces can be stored in a variety of ways.
If you have a mini nail setup and a bigger rig, then a padded duffle bag with tons of storage options on the inside is a great solution. We have a few padded duffle bags, but the Cali bag duffle is about the right size for the Peak or a small rig and torch combo with plenty of padding and added storage on the inside and out.
Regardless of whether you prefer the portable and stylish functionality of the Puffco Peak, or the personal touch and exemplary operation of a glass dab rig and torch, several bags and cases will fit the demands of your particular style.