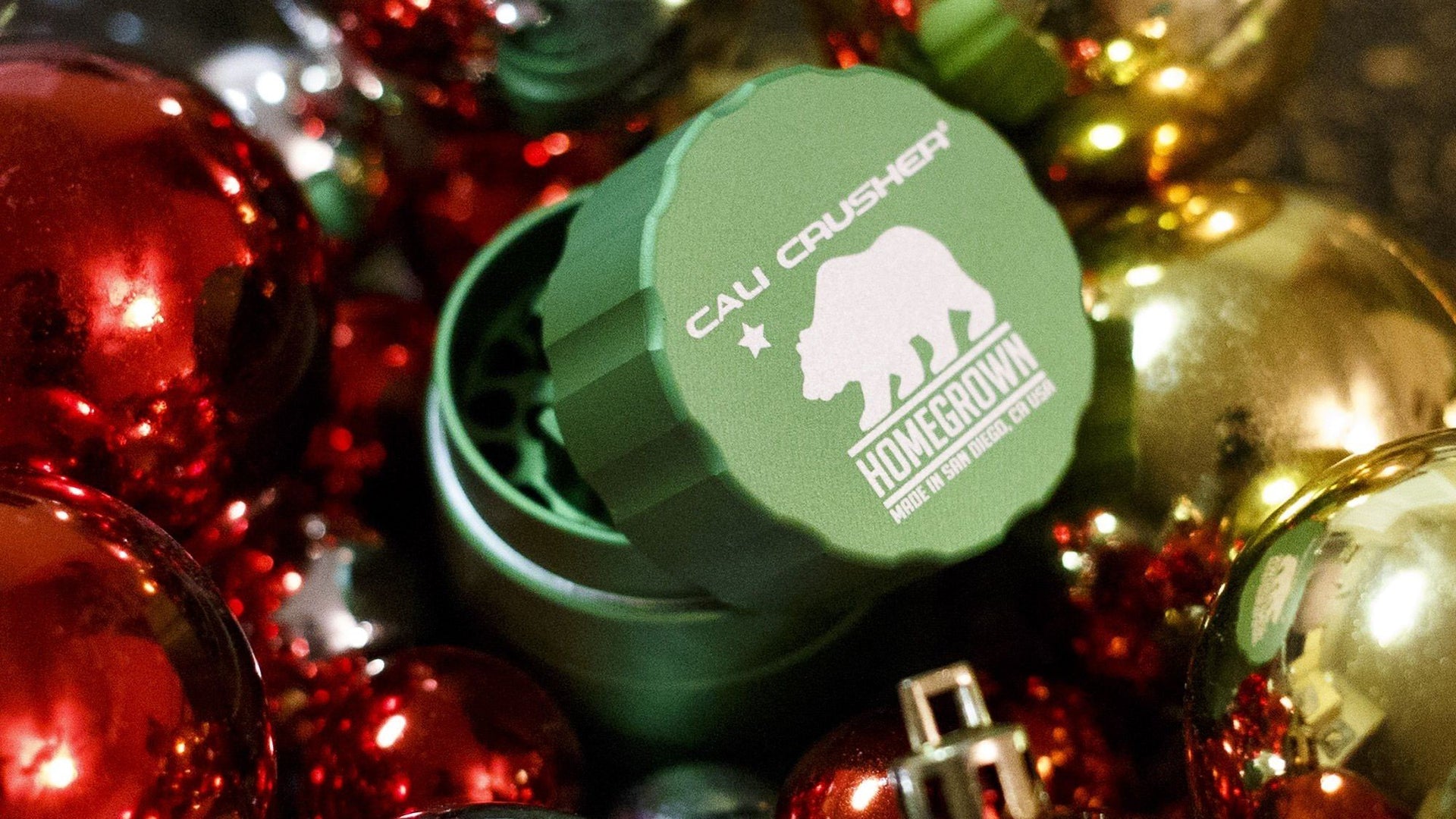 12 Stoner Gifts - Top Holiday Gifts for the Weed Smoker In Your Life
Shopping for the perfect pipe or smoking gear for a friend or partner can be challenging. We're here to help you make a more informed decision regarding stoner gifts for the 2021 holiday season. We've made picks for all types of stoners so you can get something affordable or something unique and luxurious for that particular cannabis user you know.
Cheap Stoner Gift Under $50
Four-In-One Bong/Dab Rig/Nectar Collector/Bubbler
from Waxmaid
The four-in-one bong from Waxmaid is an excellent gift for anyone who likes versatility and enjoys smoking in different ways. When you gift this pipe to someone, you give them four pipes, which makes you a hero. The pipe functions as a percolated bong with a glass section and swiss-style perc when all pieces are combined.
You can reduce it down to a dab rig by removing the middle section and changing the bowl for a banger. If you swap the bowl, downstem, and mouthpiece, you can create a bubbler. And the mouthpiece can be replaced with a nail or the bowl to create a chillum or a nectar collector. This silicone bong makes an excellent backup pipe for all occasions.
Top Shelf Gift for Luxury Stoners
Stündenglass Premium Gravity Bong
We're sure you know someone who needs a luxury gravity bong. The Stundenglass gravity bong is one of the most unique and bonkers ways of getting stoned that has even been engineered. This giant rotating gravity bong is for the collector who wants to smoke out a whole room of people in the most intense way possible while still, someone remaining classy.
The Stundenglass Gravity bong works like an old-school science project creating a vortex using a cyclone effect to do all the work of inhaling for you and capturing the most significant hit you can handle under a glass dome for you to inhale at your leisure. You load and cap the chamber, then flip the bong while lighting the bowl to have it pull in a massive hit of smoke, then flip it again to push all that smoke out at your face. This gift will keep on giving excellent smoke sessions.
Best Stoner Gift for Your Best Friend
Otto Automatic Weed Grinder and Cone Filler
From Banana Brothers
Who wouldn't want a robot that helps your roll joints? The OTTO is ideal for anyone who primarily smokes joints and likes to have a stockpile of doobies ready to take on anytime they want. This is one of those Christmas gifts that you give to someone fully knowing that you will want to use it a lot yourself.
When you click the OTTO on is performs the same smooth grinding motion that dumb old human hands do with precision and care. Once it detects the weed, it begins to grind and then opens its hatch and shakes. The ground weed is deposited in a pre-rolled cone perfectly shaped to your specifications.
Best Stoner Gift for Her
Vase Bongs
From My Bud Vase
My Bud Vase is a line of eccentric, classy, and stylish bongs made for the discerning stoner who enjoys the novel idea of turning a flower vase into a bong. My Bud Vase may seem like a joke at first, but they are serious about the artistic quality of their vases and the functionality of their bongs.
Each vase is hand decorated and converted to a bong with careful attention to detail. These bongs hit just like a typical glass bong and look fabulous displayed on your coffee table. The variety of vases makes My Bud Vase a flexible gift choice.
Best Stoner Gift for Him
Session Bong
From Session Goods
The Session Goods Bong stands alone as a constantly sought-after piece by new and experienced smokers alike. This is a solid fit for any smoker who likes a modern and understated smoking piece that functions solidly and reliably for any sesh.
It's a simple design that looks plain at first until you realize just how much great functionality is hidden within such a clean and minimal form. The super thick body holds a low waterline that is concealed by the silicone footer on the bottom. The silicone accessories come off for easy cleaning or swapping out with another color to match your style. It comes in a premium package with an extra bowl and downstem to make sure you can smoke well into the future.
Best Gifts for a Stoner Couple
Double Headed Beaker Bong
From MAV Glass
Sharing your smoke sessions is an intimate and bonding experience. Passing a pipe around and toking with one another always helps to create good conversations and brings a chill mood. This bong takes that notion and elevates it to a new place by adding a second mouthpiece to the neck. Load up a big bowl and share a massive bong rip!
We recommend hitting this bong gently at first and trying to equalize the pressure between the two mouthpieces before ripping the bowl. It takes some practice to hit this water pipe just right, but that is half of the fun!
Best Unique Stoner Gift
Trident Laser Bong
By Hitoki
Okay, admit it, you just want to buy this for yourself. This is the most villainous bong that seems like it would only exist in the movies but, it's real. An industrial blue laser expertly lights the bowl without adding a butane or metallic flavor to the hit. This is for only the most die-hard smoker that wants to impress and blow people's minds with a novel way to smoke weed.
This easy-to-use device includes water filtration, multiple power settings, safety interlocks, and 1 hour 45 min fast charging capable of 280+ uses on a single charge. Your Trident can also be used as a natural herbal scent diffuser for your living space.
Best Funny Weed Gift
Triple Joint Holder
From RAW
Smoking three joints at once is hilarious. It's always fun to roll up a few joints and go to the moon toking them back to back, but this wooden joint holder combines the power of three into one steady and robust draw that will send you coughing and eyes watering into the clouds. This is an ideal stoner gift for anyone who likes to have a great time getting blazed on blunts and joints.
The RAW Trident joint holder is hand-made from sustainable Brown Knotwood in the Pearl Valley of Fujian, China. No two holders are the same due to the natural color and growth patterns of the wood.
Best Gift for Stoners Who Love to Dab
Road Runner Dry Rig
From Home Blown Glass
Taking a dab on the go usually means you have to have an expensive vaporizer or dab pen, but the Road Runner solves those problems. This nectar collector type dabbing pipe is simple to use and easy to carry around.
The Road Runner dry dabber from Home Blown Glass is a modern marvel. This bird was made for taking a quick taste and then heading down the road. Its Double-Donut cooling design creates enough air passage to cool down your hit a bit before delivering a flavor you can trust.
Best Smoker Gift Set
The Mega Pack
From 420 Science
The Mega Pack is all about getting as many helpful weed accessories into one 420 Jar as we can. This stoner gift set is as much fun to unpack as it is to use. We have everything in here but the weed so remember to re-up before you gift the mega pack.
Complete with storage, rolling papers, a pipe, and even some sunglasses, this stocking stuffer is perfect for the stoner who already has everything.
Best Weed Accessory to Gift
Designer Art Rolling Trays
From 420 Science and Various Artist
Everyone can benefit from a high-quality rolling tray. There is nothing like a clean, flat rolling surface dedicated to the art of rolling. If a professional joint roller were a thing, then they would have a weed tray to roll on for sure.
A proper roll tray helps with joint rolling, keeps tools organized, and is a place for bits of herb to collect so you can use them again. Our trays feature curved interiors, magnetic lids, and fantastic custom artwork from renowned artists.
The Best Weed Gift for Yourself
A Brand New Dab Rig or Bong
The lucky recipient of this holiday gift? You.
Once your Christmas money is in your bank account, it's time to gift yourself something you wanted. Take that check from grandma and turn it into a new bong or dab rig that will put a smile on your face and fill your head with happiness. Adding to your pipe collection expands your options for smoking and refreshes your smoke sessions with a new and exciting way to get stoned. Grab a big beaker bong or a fancy mini rig from our large selection of pipes and make this holiday season that much more festive.
Shop Online with 420 Science for the Perfect Gift for the Stoner in Your Life
We want you and your friends to have the absolute best smoke sessions possible. We're dedicated to helping you shop for the best cannabis accessories, pipes, rigs, and available storage.
If you have any questions about a good gift for someone who smokes weed or is just looking for the best new pipe to buy for yourself, we're here to help. For more information on great smoking accessories and holiday gift guides and deals or join our newsletter or contact us.