Customer Reviews
Write a Review
Ask a Question
08/15/2020
Joshua H.
United States
rips HARD. I lost my mind lol
This bong has the smoothest and fattest hits that i have ever experienced from a piece. It looks amazing in the house (very subtle and discreet; my non-smoking friends don't realize what it is), and it smokes just as amazingly. These past few months, especially since the beginning of quarantine, I've been smoking fat. Flower was starting to feel dull and less potent, but one rip from this piece (it has a deceivingly enormous bowl with really even burning) sent me FLYING over the moon, feeling almost like a full dab. This bong rips so hard that the second time I used it, I went into a full panic attack episode, confused and scared for my life. I had to call my psychiatrist in an emergency because I think that I was experiencing full psychosis. My girlfriend held me on the couch while I was shaking and crying, begging for her to call 911 (she didn't—I eventually calmed down). Believe me—the efficiency of each hit is REALLY good from an objective standpoint. I don't think that I'll be smoking again for a long while. While I know this sounds awful, just believe me: this is just PROOF of how well this bong hits. I hadn't been that high in years—it's a truly fantastic piece. I'm only sharing this traumatic experience to explain the sheer force that this bong can deliver. The shape of the glass, in addition to a perfectly angled downstem in a large bowl, makes hits 100% efficient. I highly recommend using a screen for your bowl; it has a good flat base, so that will help it burn better. In all, I rate this a full five stars. It's a perfect bong—it's enough to get me high enough to never smoke again. That's how amazing it is. 100% recommend this bong. I am satisfied, even if I'm never smoking pot again. It was a good last run.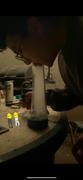 07/14/2020
Russell F.
United States
This thing is great!!!
I bought this as a birthday present for one of my closest friends. He and I got so ripped on this and it was so smooth. Very easy to clean also. I highly recommend this bong. As a matter of fact, I'm gonna order one for myself soon.
07/13/2020
Eugene C.
United States
Nice
Really nice item. Easy to use and clean. Definitely worth the price. It doesn't look cheap feels nice.
06/27/2020
Nicole M.
United States
Thoughtful Design
A lot of thought went into making this design. Happy to say it's my new daily driver!