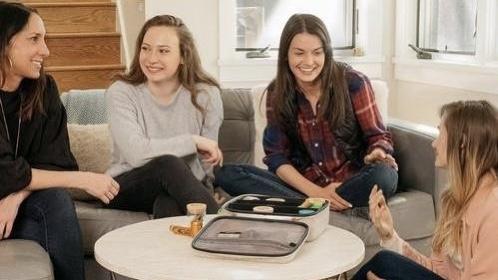 A Guide to the 10 Best Stash Boxes (2022)
A stash box is an essential part of any smoker's accessory collection. Stash boxes not only keep your weed safe, they also keep it fresh! And they can also help you organize your rolling papers, grinders, and other weed accessories.
There are tons of stash box options out there, from containers with combination locks to boxes with smell-proof technology. How do you decide which one is right for you? This post will help you choose the best weed stash box for your needs and lifestyle.
What is a Weed Stash Box?
A weed stash box is pretty much exactly what it sounds like: a weed container for you to store your buds and weed-related accessories in. Some weed stash boxes are simply storage boxes, while others have features like locks and seals to keep your weed extra safe and fresh. Some are even smell-proof so that no one can smell your potent buds. Others come with additional accessories like grinders and rolling trays.
Why You Need a Stash Box for Your Weed
If you live with other people, whether they're smokers or not, it's a good idea to get your hands on a stash box so you can store your weed securely. This storage is crucial if you live with children (or someone with sticky fingers). You'll feel so much better knowing your weed is safe when you aren't home to keep an eye on it.
Weed stash boxes not only keep your supply safely tucked away, but with features like durable seals, they also cut down on the smell and keep your weed fresh for your next smoke session. Even smokers may not want their homes smelling like weed, right? If you have accessories like rolling papers and grinders, you can store them with your weed. That way, everything is organized and ready for your next smoke session.
Types of Stash Boxes for Weed
We have many practical, helpful, and beautiful weed containers, including smell-proof, lockable, and wooden stash boxes. We only carry the best stash boxes guaranteed to keep your accessories organized and keep your weed fresh and secure. No matter what your individual needs are, we can help you find the perfect weed stash box.
Smell-Proof Stash Boxes
Smell-proof stash boxes usually have strong seals that effectively hold in the smell of weed. A smell-proof stash box is an excellent option for anyone who lives in a house with others or needs to be discreet with their smoking. It's also a great accessory to have if you're traveling with your stash, as it adds that extra layer of protection that will put your mind at ease.
Lockable Stash Boxes
If you want to keep your weed safely stored away, you might want to look into purchasing a lockable stash box. These boxes typically come with combination locks or padlocks to keep your stash as secure as possible.
Wooden Stash Boxes
Wooden stash boxes typically look simple and classic, and they're great for storing your weed. Most wooden stash boxes have plenty of room for your weed and several accessories like lighters and joints or one-hitters.
Stash Boxes with Rolling Trays
Stash boxes with rolling trays offer an all-in-one solution if you're looking for a place to store your weed and accessories. Most of these stash boxes have either a built-in or removable rolling tray you can use to roll joints or just place your accessories during a smoke session.
The Best Stash Boxes of 2021
There are a lot of stash box options out there. We curated this list of the ones we consider worthy of the "best stash box for weed" title. We think there's something for everyone here.
Stash Logix Combo Silverton Stash Bag
This ultra-discreet weed stash box is the ultimate combination of lockable and smell-proof. It features a unique "silver lining" with a durable zipper and rubber seals that block all odors, so you won't have to worry about anyone sniffing out your private stash. It also comes with a built-in combination lock to keep your weed safe and secure.
Need a place to store your other weed accessories, too? This stash box has adjustable dividers, so you can customize the layout and keep your things organized. It even comes with a convenient metal poker and an OdorPax for extra odor-eliminating protection.
Vatra Smell-Proof Hard Case
This stash box is perfect for anyone looking to organize their smoke or vape kits and accessories. It's modern, classy, and discreet. There are separate spaces and several removable pouches for your gear and your buds. You can keep everything right where you need it for easy access.
You won't have to worry about damage to the box's contents since this particular box features a hard exterior, anti-tear protective netting, and even a weather-resistant zipper. One of the best features of this stash box is its maximum potency carbon filter and double-zip-up closure that both make it completely smell-proof.
Myster Stash Box
This classy weed stash box has a luxurious leather exterior and can be turned on its side to look like a book for maximum discretion. It's exceptionally roomy, meaning there's plenty of space for your buds and all of your weed accessories. The lid magnetically snaps shut, but you can also add a padlock for more security. If you're looking for a classic, discreet stash box to store your weed and accessories, then this is an excellent option for you.
A Myster Stashtray Bundle also comes complete with the stash box, a stainless steel rolling tray, a strain container, a four-part grinder, an ashtray, and even a pipe cleaning spike. This kit is perfect for beginner smokers or anyone looking for a better way to organize their weed accessories and supply.
Revelry Stowaway Stash Bag
This smell-proof toiletry kit can hold it all, from travel essentials to your weed and accessories you need to enjoy your next smoke session. This stash bag is remarkably durable because it has extra padding, a rubber-backed exterior, and a custom protective lining. It's compact and portable, making it easy and convenient to travel with.
You won't have to worry about odors when using this weed stash bag. It's wholly smell-proof and features a high-quality carbon filtration system for maximum odor absorption. It's also water-resistant, which means you can travel and enjoy the great outdoors without worrying about ruining your weed.
RYOT Head Case
This weed stash box by RYOT is the perfect portable solution for storing your weed and weed accessories like pipes and lighters. It features a durable exterior and a tight zipper that will keep your weed secure and fresh. The tight seal cuts down on odors, and this stash box also features a removable foil-lined stash pouch and embedded carbon filters. You won't have to worry about anyone detecting the smell of your stash when you store it in this box.
This stash box is the ideal size for storing small pipes and joints or one-hitters. It's an excellent option for anyone looking for a weed container that's portable, durable, and smell-proof.
Ally Lockable Storage Box
This container is versatile, durable, and secure. It's everything you need in a stash box! You can use it for various purposes, from storing medications to storing weed and weed accessories. This storage box comes with a removable interior tray that can be used as storage for small accessories like one-hitters or as a rolling tray.
If you're looking for a secure place to store your edibles, this stash box is the perfect solution. It's both fridge and freezer-safe, and it's also food-safe and BPA-free. Plus, it has a combination lock so you can keep your weed and weed accessories safe and sound.
Stashlogix Highland Odor Resistant Case
This clutch-style stash purse is sleek and discreet, making it the ideal storage solution for anyone who needs to take their stash on the go. It's incredibly durable and has double-thick odor-absorbing layers so that you can travel with your stash stress and worry-free. This stash bag also features a combination lock that secures the zipper and a magnetic snap that holds the cover shut.
The versatile Highland neighborhood in Denver inspires this stash bag. As a result, it aims to fit the needs of stoners who enjoy going out on the town and getting outdoors. This bag is truly one of the best stash boxes for weed.
Jane West Travel Collection The Compact
This Jane West model is by far the most compact and discreet weed stash box on this list. It features just enough space for a few small weed accessories and a small stash. This stash box comes with a one-hitter, a metal poker, and a small stash insert with day and night compartments. The mirror on the inner lid can be used as a rolling tray as well.
If you're looking for the most compact and portable stash box on the market, this is definitely an option to consider. You'll feel at ease knowing your weed and weed accessories are stashed away in something so discreet and unassuming.
Marley Natural Wooden Case
This classic stash box is an all-in-one storage solution for the stoner who wants to keep things simple. It's compact and around the size of a larger cell phone, making it ideal for storing joints, one-hitters, and small weed accessories like grinders. The divided inner chamber allows you to keep your stash and accessories organized and ready to go.
The flat top of this stash box can be removed and used as a rolling tray, which is a huge bonus for impromptu smoke sessions. Fans of Bob Marley are sure to love this traditional stash box, which his family produces.
RYOT Hard Shell Krypto Kit
This stash box is compact, durable, and smell-proof. It's an excellent option for anyone who wants to put together a simple kit of a lighter, a small stash, and maybe a one-hitter or two. It even comes with a metal poker tool! This zipper stash pouch has elastic bands and small pockets on the inside to keep your accessories secure and organized. There's also an outer pocket where you can store wipes or other small accessories.
You won't have to worry about odors with this stash box kit. It incorporates carbon permeated padding that neutralizes and traps odors. It also features weather-proof fabric and a secure zipper to keep your stash safe and keep any odors contained.
Looking for More Cool Weed Accessories?
There are a lot of options on the market when it comes to stash boxes. Choosing a weed stash box is all about evaluating your needs and preferences. We hope this guide helps you select the perfect stash box!
Ready to purchase your new stash box? You'll find everything you need, plus more weed accessories, right here at 420 Science. Still have questions? Contact us. We're happy to help!