Roll'em if you Got'em
The favorite past-time of the cannabis enthusiast, rolling the perfect joint. It's a never ending quest, but the reward is in the journey, and in getting blazed. There is nothing like a clean, flat surface dedicated to the art of rolling. These metal trays have perfectly rounded corners so that herb does not get caught it metal creases. The highly polished surface ensures that your bud can be easily moved around the tray. Roll like never before.
SPECS:
All metal rolling tray
Polished surface prevents sticking
No creases or areas for bud to be trapped
Dimensions: 7 x 5 in
Customer Reviews
Write a Review
Ask a Question
12/31/2019
Tania K.

United States
I loved it
The bag works I think lol good enough and the mini rolling tray is good I like what I got and the price wasn't bad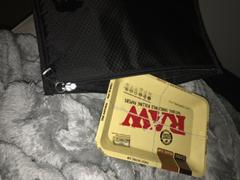 09/24/2019
Johnathan B.

United States
Perfect size
Exactly what I was looking for! Plenty of space for any smokers who wanna have a small concealable stash.
06/21/2019
Rachel M.

United States
Awesome!
I love the shape and height of the sides. And I also like the texture, other trays have this weird texture sometime where everything sticks to it, this is smooth and not static-y.