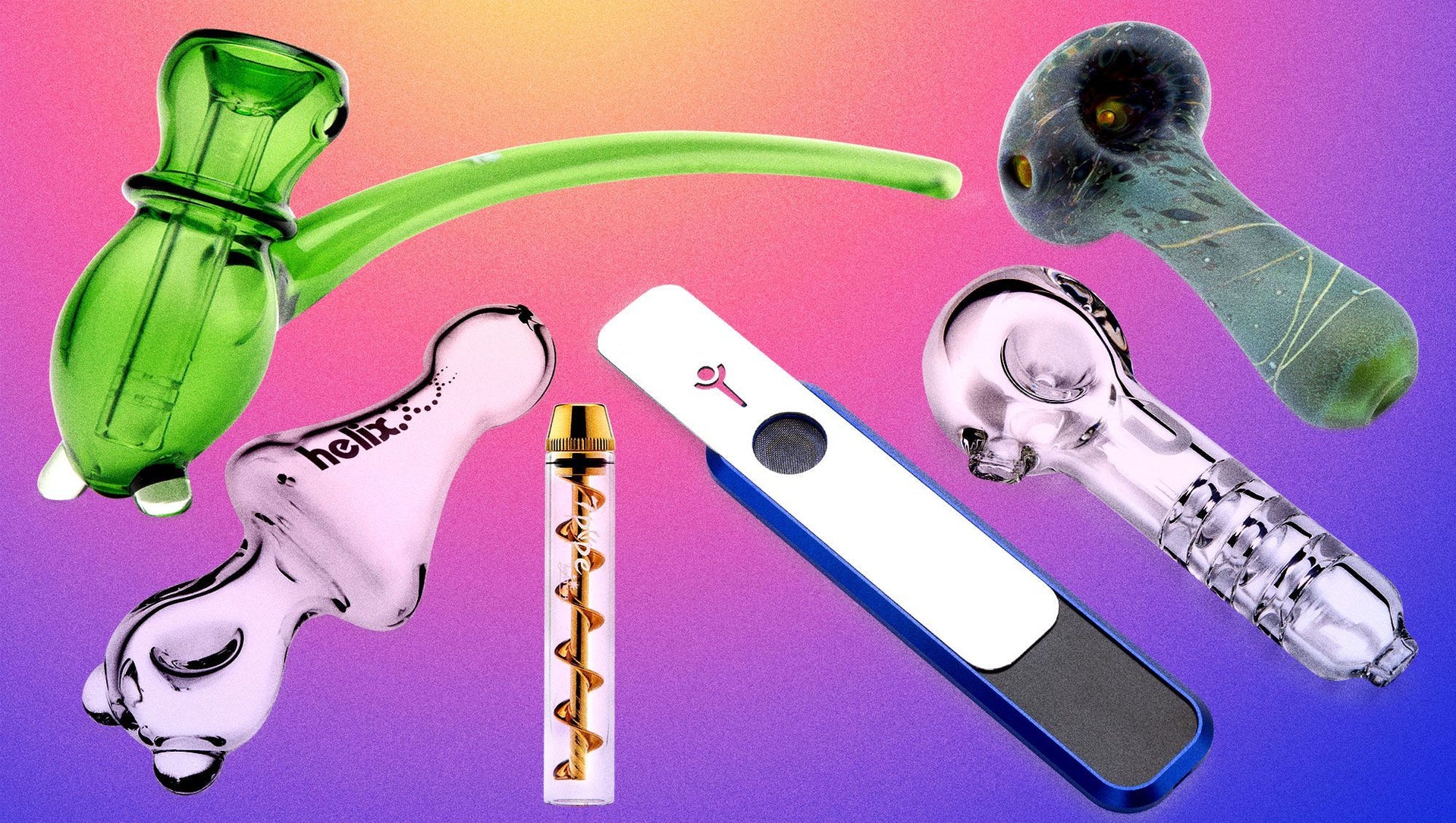 The Best Hand Pipes for Smoking Weed (2022): Our Top Picks
The Best Hand Pipes
When you see an exciting hand pipe, it can be inspiring to notice how detailed and intricate the design can be. Often the pipe you start smoking with is not the most ideal, but eventually, it's time to choose another pipe that fits you and your style. But what makes a hand pipe special?
It's not easy to blow molten glass into shapes and contort them into a functional form, not to mention the array of colors involved in making a pipe. A tiny mistake in the curing process can shatter the whole project. We realize the time and attention it takes to make pipes and know that everyone has different tastes in smoking gear. A high-quality glass pipe will stay with you forever if you treat it right and take care of it. Everyone wants a piece that functions well and represents them.
We spent some time reviewing all the weed pipes we stock in search of the best pipe. After careful consideration, we made a list of our best weed pipes and why people like them. Let's look at the best pipes for smoking weed in our hand pipe collection and see what kind of piece is right for you.
8. The Upline Spoon
Spoons are the primary type of hand pipe for cannabis. The Upline Spoon takes the typical design and reinforces it with reduction rings in the clear borosilicate glass. The circles in the stem slow the flow of the smoke and cool it slightly so that you don't get a harsh hit. Instead, it's a smoother pull, and the rounded mouthpiece catches the ash.
7. The 7 Pipe Twisty Mini Glass Blunt
This hand pipe has a corkscrew design in the middle that serves a unique purpose. The 7 Pipe Twisty Mini Glass Blunt piece is a hybrid between a chillum and a glass bowl. By packing the weed into the blunt with the corkscrew, you can easily keep the end lit by twisting out more for another hit. The amount of weed you can keep in the Twisty is significant, and it can be used as a bowl on a bong too!
6. Eyce Silicone Spoon
The Eyce Silicone Spoon is made of silicone instead of glass. Silicone pipes are works of art like glass pipes, but they have a slightly different texture and design. These are some of our most desirable color combinations and gradients. Silicone spoons are also great for clumsy smokers and the accident-prone. They're durable, which isn't always something that people consider when picking out a piece.
5. Helix Classic
The Helix is an innovation based on other spoon pipes, but this one is more high-tech. The Helix is about the size of your hand and sits comfortably in it. The Helix was designed in a way that smoke would swirl with the pipe by air passing through three angled vortex holes. The fun of this piece can toy with the smoke swirl to cool down the hit. The Helix takes some mastery to create the perfect swirling smoke pattern, and practicing with it is undoubtedly part of what makes this pipe so popular.
4. Genius Pipe
The Genius Pipe is a thin, industrial pipe that is great for stealth smoking. With the Genius, you can pack the bowl and cover it with the casing. The cover plate conceals the weed and protects it from spilling. If you are looking for a discrete cannabis pipe, the Genius is flat, durable, and easily concealed.
3. Gandalf Pipe
Gandalf was the wise and elegant mentor from The Hobbit series. If you grew up reading or watching LOTR, then you know Gandalf was a mysterious and venerable teacher in the troubled times of hobbits and elves, and he loved his pipe-weed. The Gandalf pipe has a long stem and is in a misty blue color. It looks like a peace pipe or a magical object. Gandalf pipes deliver long draws and can store up big hits in their long mouthpiece.
2. GRAV 6in Sherlock
Do you like solving mysteries at 221B Baker Street and catching British scoundrels all while smoking a fat bowl? It wouldn't hurt to know the answer to everything in life, and you might just figure some things out while sitting thoughtfully with a glass Sherlock Pipe. The curvy Sherlock pipe has a classic wooden pipe shape and a deep bowl.
1. GRAV 4in Spoon
The GRAV Spoon pipe is our most popular weed pipe, without a doubt. This traditional spoon pipe is affordable, sturdy, and available in a vast array of colors and designs. The solid construction is complemented by the inverted cone mouthpiece that keeps ash out of your mouth and the generous bowl size. The Spoon has been sometimes called a bowl pipe because its main feature is the large rounded bowl on end to hold weed. The bowl has a flat bottom, so it sits nicely on a table and has a traditional left side carb hole to clear the pipe quickly.
Start Your Pipe Collection
Owning more than one pipe is a great idea. You never know when you will want to have a different experience with your smoke sessions or even need a backup if a pipe breaks. We encourage everyone to have a few pipes for small smoke sessions and bigger ones to share bowls and go on adventures. Take a look at our hand pipe collection, and let us know if you have any questions. We're always happy to help you have a better smoke session.