Customer Reviews
Write a Review
Ask a Question
01/02/2020
Zak M.
United States
Great piece
The product is great, of the couple of versions of the piece that I have, this one has proven to be the most durable and overall, a pleasure to use.
12/18/2019
Zak M.
United States
Great Helix
The airflow is great, but it seems pretty fragile around the base of this piece.
06/27/2019
Jonathan M.
United States
Stax Helix Mouthpiece For The Win
Excellent! I have a custom Grab Labs Stax bong with two consecutive ash catchers, a Coil Showerhead base, a Glycerine Coil perc, topped with the Helix Mouthpiece. I was already happy with the the cooling effects (the smoke hits my lips at about 55 degrees F) of my original setup. However, the addition of the Helix Mouthpiece not only lowers the draw pressure, allowing the herb to smolder rather than incinerate, and acts a repository for cold smoke (cool air doesn't rise). I am now taking bong hits with zero lung burn and almost zero urge to cough from even the most dense smoke. $99 was a little pricey, but I can't argue with the benefits.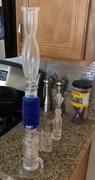 Great
It works great smoke swirls around extra air making it slot smoother for oil