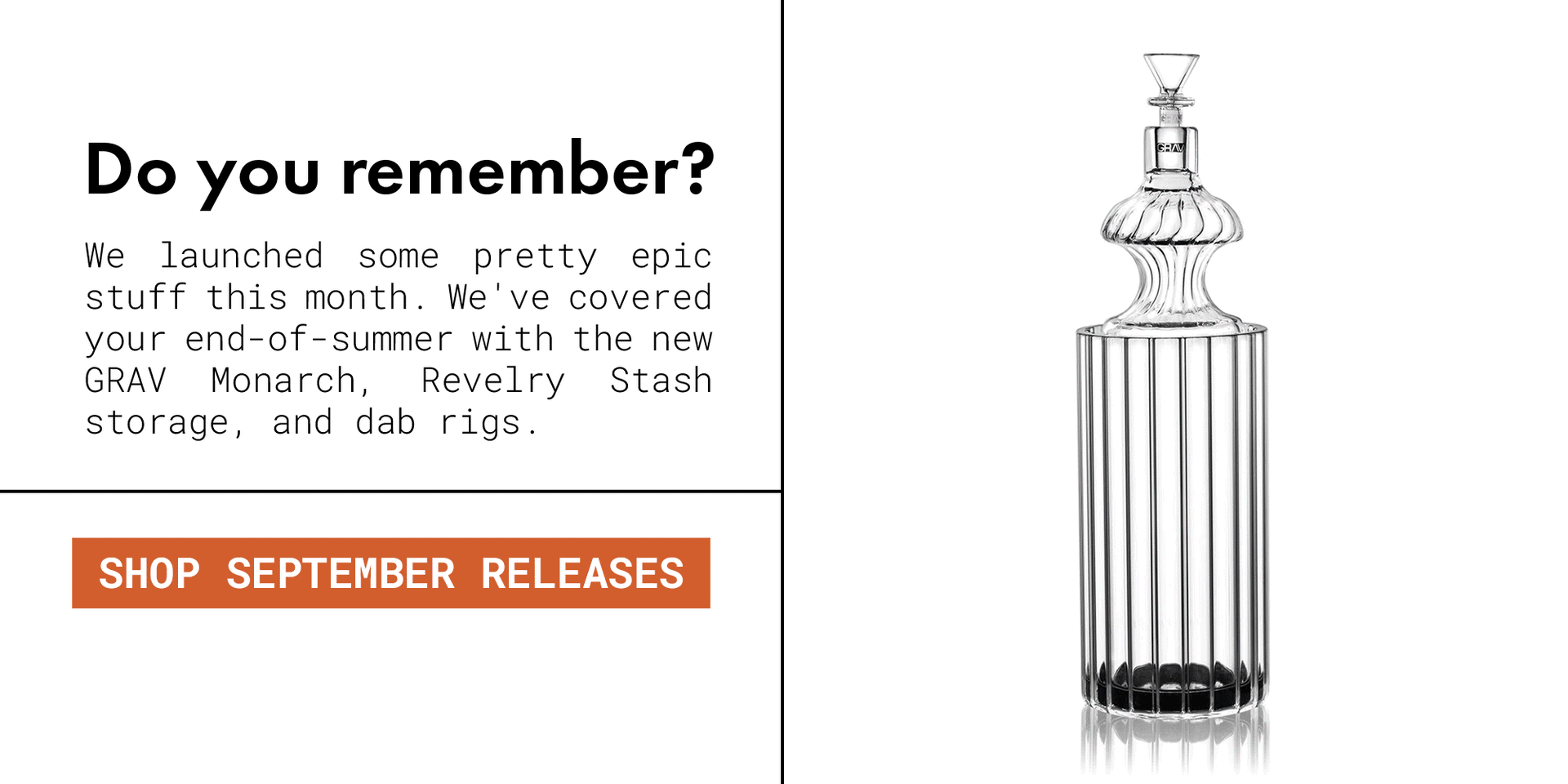 September New Releases 420 Science
September New Releases at 420 Science
At 420 Science, we always look for the latest and greatest products to take your smoke sessions to a new level. And we've added some genuinely excellent releases to our collection this September. We do the work of curating the best of the best so you can sit back, relax, and enjoy the results. We've covered you, from versatile bags to fancy gravity bongs and innovative dab rigs. Let's dive into our new releases and discover the perfect addition to your smoking arsenal.
Revelry Companion Fanny Pack
When it comes to versatile and stylish bags, nothing beats a fanny pack. Whether you wear it across your chest or around your waist, this bag is perfect for storing your stash and any other gear you need, like a wallet or keys. Revelry has crafted high-quality bags for a high lifestyle for nearly a decade. Their travel bags are ideal for outdoor adventures, road trips, or simply heading out for a walk. With their technical yet elegant designs, Revelry focuses on the details to create functional and visually appealing bags. Their smell-proof and water-resistant features ensure your stash remains discreet and protected.
GRAV Monarch Gravity Bong
Introducing the GRAV Monarch Gravity Bong – the fancy bong you never knew you needed. Crafted from top-notch borosilicate glass, this piece isn't just a bong; it's a statement. With its suave scalloped sides and curved grip, holding the Monarch feels like taking a hit from a priceless award. And that easy-grip mouthpiece? It's like a welcome mat for your lips. But the Monarch isn't just about looks. Its classic big glass body fills with dense clouds as you light up. Simply fill the base with water, load the bowl, light up, and pull the mouthpiece up. As the chamber fills with smoke, pull the bowl and lower it back into the water, then inhale like you're inhaling the secrets of the universe. Get ready for a gravity-powered smoking experience like no other.
Revelry Pipe Kit
The Revelry Pipe Kit is the ultimate solution for enjoyable smoke sessions anywhere you go. This complete, smell-proof, padded, and lockable kit includes a glass spoon pipe, a hemp two-piece grinder, and a pipe tool conveniently stored in one secure package. With its innovative features and durable construction, the Revelry Pipe Kit ensures the safekeeping of all your session essentials. Whether you're on the go or prefer having all your smoking tools in one place, this kit covers you. Say goodbye to fumbling around for your pipe or grinder - everything you need is at your fingertips.
MAV Eureka Honeyball Bent Neck with Wig Wag Splash Ball
Prepare for an exceptional dabbing experience with the MAV Eureka Honeyball Bent Neck Dab Rig. This beautifully crafted piece combines advanced features with an eye-catching design, ensuring a remarkable dab session every time. Standing twelve inches tall, the Eureka Honeyball rig commands attention with its sleek and elegant presence. The Dewar's joint adds an extra layer of security, keeping your rig steady and reducing the risk of accidental breakage. But it's not just about stability. The Honeyball perc takes filtration to the next level, ensuring each hit is clean and flavorful. Load up your rig and witness the mesmerizing visual experience the Honeyball perc provides. With the MAV Eureka Honeyball Bent Neck Dab Rig, you can elevate your dabbing sessions and indulge in the artistry of this exceptional piece.
We Curate So You Don't Have To
With these new releases, your smoking experience is about to get a serious upgrade. From the versatile Revelry Companion Fanny Pack to the fancy GRAV Monarch Gravity Bong and the complete Revelry Pipe Kit to the captivating MAV Eureka Honeyball Dab Rig, we've got something for every smoking enthusiast. Discover the perfect addition to your collection, and prepare to take your smoke sessions to new heights. At 420 Science, we've done the curating work so you can simply sit back, relax, and enjoy the best smoking accessories. It's time to level up your smoke game.