Customer Reviews
Write a Review
Ask a Question
12/20/2019
Daniel
United States
Decent
Pros: - Glass is thick. - Welds are clean. - enough weight/base for enail usage. - Easy to clean. - Very good taste w/ concentrate use. Cons: - Costs about 3x what it should (can be had on ebay for $130-$150. That's what this piece is worth). - TERRIBLE for dry herb use. - Not nearly as "elegant" as GRAV would lead you to believe. Overall: This is a decent, middle of the road piece for concentrate use. If you use an enail, avoid height AT ALL COSTS! Seriously, use the "shortest" nail you can get your hands on. The second ANY enail with a barrel coil comes into the equation, prepare to need a drop down, reclaim catcher or SOMETHING.....unless you want to poke yourself in the forehead with your or get your face within about 1 inch of 600+ degree heat. GRAV markets this Arcline stuff as being it's most elegant, top of the line product....but there really is nothing special about this line. If you can find this Arcline stuff for about 50% of what it costs here at 420science...you'll be picking up a DECENT piece at what it SHOULD cost.... Added a pic of the Arcline beaker with MiniNail's hybrid deep dish nail & Purr x MiniNail glass carb cap. As you can see, height is an issue. This piece works much much much better if you're using a flat coil or a drop down of some kind. I am yet to find accessories (drop down & such) that are worth purchasing....so I do not yet own one that's usable. I WON'T own one that's usable until I order one that's handmade by a glass artist here in the US either, as glass water pipe accessories that are widely available are junk. Plain & simple. I've tried to be as brutally honest as possible here.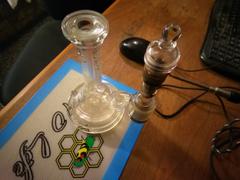 12/16/2019
Andrea
United States
Favorite by far
I have used this for many purposes, and it excels in all. My favorite by far is to use it in combination with my dry herb vaporizer. It pulls so smooth and it's so easy to use. I keep mine spotless at all times, and I've found it's very easy to clean. I get compliments from everyone who uses it with me, especially about the quality and thickness of the glass. I wouldn't trade it for anything else. It's so simple and elegant. This is the last piece I bought, I've had it for about a year now, and it's stopped my desire to buy anything else. Can't recommend it enough.
Elegance at its finest
I went with this piece because I wanted something that would look a bit more elegant while being efficent. It's very thick on glass and looks super clean when put under light, pretty much a crystal shine to it. It hits smooth with flower, with a low water line you can fill it with milky smoke and get a decent hit. I also switch over and dab with it and i'm pretty happy with how it hits and delivers flavor. I feel like with the thick glass you should be using an Enail for a better dabbing experience. Cleaning is not much of a problem if you use a screen just a couple shakes with iso and it's good. Yes it's a little pricey but atm it's on sale and if you have a coupon it's much more affordable. Again this is not a game changer but a piece that looks amazing and does a great job.
I would have pick something else if tried before hand.
Pro- Super Thick Glass Perfect for the Fridge Cons- Not very good for dry herb. Hard to clean- WAY TO EXPENSIVE!