Customer Reviews
Write a Review
Ask a Question
04/22/2020
Gavin S.
United States
Great bubbler rig
Was very excited about this piece. I was going to order the 7in. but I was glad I went with the 9in. It's a great size, the perc makes it that much smoother of a hit. I have a mini Grav bubbler which inspired me to buy this piece. I wanted a larger bubbler style rig, but nothing too complex or hard to clean pieces. I also wanted this bubbler to be able to throw a quartz banger on and use it more so as a rig. Works great with both dry herb with the bowl piece it comes with as well as oil if you grab a 14mm banger/nail. The other thing I love about this piece and all Grav pieces are they are well built. They use very thick borosilicate glass. (Ive dropped my Grav Upline steamroller several times and takes it like a champ) I love it, Grav makes great pieces. Grav and HiSi are my go to brands and would definitely recommend this rig as an inexpensive, smooth, and solid piece. Just buy it, Sezzle makes it that much easier in payment plans .. DO IT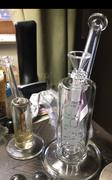 10/08/2019
Jackson W.
United States
Perfect Glass Bubbler
Love this bubbler. I only wish it had a removable downstem. But even with the fixed downstem, it is not hard to clean. Very happy with my purchase!
06/07/2019
Dallas D.
United States
Does the job
It's good and it's not bad. For 100 bucks I didn't loose anything. I like it and I'm a daily stoner.