Customer Reviews
Write a Review
Ask a Question
10/21/2020
Smokedaddy
United States
Ursa "Minor" in a major way
The Ursa by MJ Arsenal The Ursa by MJ Arsenal, or Ursa Minor to me, is a big hit, in such a mini-rig. If you're looking for something cost effective, durable, compact, and full of flavor and power, look no further. This rig exceeds my expectations, I'd would recommend purchasing a larger 10mm banger, I went with the thermo. This thing knocks my socks off, and the oil catcher works amazing to gather re-claim.
10/17/2020
Kimberly V.
United States
MJ Arsenal ursa mini rig
Solid piece, I like how it hits. Wish it came with a 16mm size banger for my mini nail coil but other than that I love it.
10/02/2020
Starsky
United States
Big Taste in a Small Package
Don't let its size fool you. This compact device is very cleverly designed and allows you a full-power pull with zero worry about getting wet. It is almost impossible to spill and has a cute little resin catcher to keep the internals clean. The best part though is how you can really taste every detail of your dab. The difference in flavor between this and my previous glass bong is incredible! They claim it's because terpenes degrade when they mix with air and the small size and design means less air and more flavor - it definitely works! The only minor downsides are that the banger is small, and some of my tools barely fit. Nor do I have a cap to fit it. My hint of the day is to use a marble instead of a carb cap. They're cheap, easy to find in all sizes and work just as well.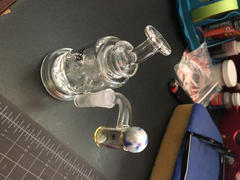 04/07/2020
aaron v.
United States
******* love it
Best rig I had yet at the best price!! Definitely coming back