Customer Reviews
Write a Review
Ask a Question
11/16/2020
Kathleen
United States
Awesome for controlled dosing!
I love this wax wallet xl! It's very sturdy (except for the pins) and allows me to easily plan my doses. The only 2 complaints I have are: 1. The pins are not long enough or big enough in diameter, they fall out or slide all the way back and sometimes get stuck back there causing one side of the hinge to come undone. Also, if you store the titanium dab tool inside it puts stress on the back pins because it is slightly too large in diameter. You can see this by closing it without the tool but not clasping it. It lays flush all the way around. If you add the dab tool and do the same ( don't clasp it) you will notice that it is no longer flush around the wallet but slightly open towards the front. By clasping it with the tool inside, it raises the back hinge, stressing the pins. 2. The silicone is not the same quality as the concentrate pucks. This silicone is not as sturdy and if you apply to much pressure with a dab tool it will slice through the silicone leaving a pit. I want to mention that 420 Science provided excellent customer service. They sent me a replacement both times there was a problem. Thank you 420 Science! Despite those 2 problems I still love it. I just baby it as far as the pins and silicone go. I don't store the dab tool inside. Maybe one day I'll find one that's thinner I can use with it but really, it's no biggie.
Pretty awesome but...
Yo, this thing is the best storage for dabs I've come across in the 6 years I've been dabbing. I've always hated small dab containers sticking to my tools or other things and flying off. This is HEAVY! I thought they shipped something else when I picked up the package just by the weight alone. My only gripe is the .05g pre measured slot was just a small silicone square that came out with some scraping. It is now just the same size as all the other holes. Other than that this thing had me bouncing on my bois banger for hours. No longer do I have to worry about my dabs ozzing in my pocket or cause other shenanigans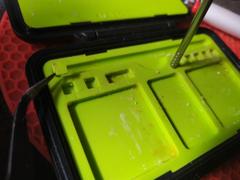 06/02/2020
Cody B.
United States
Wax Wallet XL
This is an awesome way to store your wax. Love that it has slots that you can pre-dose your waxes. The pad that allows you to prepare your dabs is awesome, and even allowed me to easily mix two waxes into one dab. Easily fits into your pocket and can be carried with you when you are on the go.
05/30/2020
Joshua B.
United States
So great!
Got the mini wallet with my peak purchase loved the idea I figured this one would be amazing. It's even better than I thought! Hold dosage dabs which helps manage the perfect amount. Space for a dab tool and spot for some slab for whatever comes up in my day! It latches closed so no risk of it opening. Want another one. Wish there was a wider range of colors thou.