Customer Reviews
Write a Review
Ask a Question
05/06/2020
Jason B.
United States
02/25/2020
Daniel O.
United States
Should have bought one a long time ago
Using a pox has been the greatest. I hardly ever use glass now. I love the simplicity and not having to deal with nasty smelling resin or water I love this unit. If you're unsure about it, trust me you'll love it. Also invest in some bud kups to make packing and traveling much easier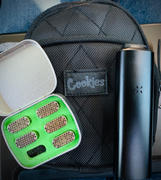 02/22/2020
Michael
United States
Amazing Uograde!
Got my first vape (CFC Lite 2.0) a few months ago and it worked (kinda) but I was never happy with it. Saw this on sale so decided to go for it...and I love it! It's small enough to be stealthy and pocket-friendly, easy to use, even without the app (thanks, Apple), heats up quick, I get excellent hits, and the standby mode lets me set it down without wasting my herb. I haven't tried the concentrate adaptor yet but I expect it to work just fine...might update if I'm wrong. I wish it came with a water pipe adaptor like the CFC did but there are a couple of 3D printed options available. Shipping was also quick and the extras are great.
02/03/2020
Kari P.
United States
Great vaporizer for a luxe, easy vape experience
This is a solid vape with such a luxurious, carefree feel. You just load it and press the button to get great clouds. I actually like the app, though it's not necessary (you can use the petals to set your temp). I love it and plan to use Pax vapes for as long as they keep making them.