Customer Reviews
Disappointing Product/possibly manufacturing fault
I received this on the go case 2 weeks ago or so for mild travel, the zipper came stiff and did not want to follow the teeth correctly and the seal was very much bent out of sorts as well as the pack itself is difficult to work with, stores a smaller grinder, pipe, lighter and a pack of papers, It is not smell proof or smell resistant . I am disappointed because I've had excellent service from 420 science and this is a poor example and hopefully fluke product, what was worse within days locks I bought for another more non-mobile lock case they disintegrated and popped apart the same ways. Hoping to upgrade my glass soon but I'm unsure now..
Hey Connie, Thanks for your purchase with 420 Science. We appreciate you taking the time to review this product. I'm so sorry to hear that you had some issues with your SKUNK bag. Rest assured, we do not have people reaching out to us regarding this issue. It's been less than I can count in one hand in the couple years I've been here! So that's good news. I do know how frustrating it can be receiving one that isn't perfect. Always reach out to us asap regarding issues you see with your bag. We can typically get this replaced for you asap. Let me know if you have any other questions or concerns. Best, Sarah Brown The 420 Science Help Desk
03/21/2019
Ryan C.
United States
Skunk Smell Proof Go Case
I purchased one of these from the 420 Science website. The first one came with a hole in it, then the second one came with the same problem. Must just be a mistake from the manufacturer. I've owned bags by this brand before and never had an issue and I'm receiving another one like it from the 420 Science shop but it's a different model. Non the less everyone at 420 Science helped me beyond I could ask for and will remain a loyal customer. Thanks Guys.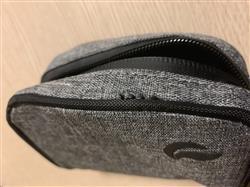 It WORKS
Took this on a trip and no one could smell it. Had my stoner buds to my parents sniff and they never suspected. Used a large tightpac to hold the ground herb and then put it in this pouch. Fit a spoon, lighter, papers and tips no problem. Well worth the price!